The question on everyone's mind who has even been remotely thinking about buying a home is, "are Vero Beach mortgage rates still headed higher?"
All indications are, not for the time being.
When the Federal Reserve surprised everyone when it announced it would not start tapering its purchase of mortgage-backed securities and Treasure bonds, it basically said to prospective buyers who have been shying away from buying a home, to start shopping again.
What Increased Vero Beach Mortgage Rates Have Meant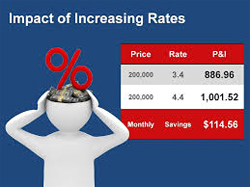 Vero Beach mortgage rates have risen significantly amid concerns that the Fed would cut back on its $85 billion a month bond-buying program. Rates on a 30-year fixed mortgage have been hovering around 4.5%, up from 3.35% in early May. That rate increase has meant an extra $132 a month in payments for a Vero Beach area homebuyer with a $200,000 30-year loan.
But now that the Fed has said it will continue to purchase the bonds, rates will likely retrace some of those gains and we expect to see some drops in the coming weeks. We don't expect anything drastic, just a slight decline in the next few weeks.
The day after the Fed announcement, 30-year Vero Beach mortgage rates fell from around 4.57 percent to 4.5 percent.
Freddie Mac's chief economist, Frank Nothaft, said rates were reacting to the same economic trends that influenced the Fed's decision. Among them: slowing growth in retail sales and industrial production and the lowest reading in consumer sentiment since April. He also noted tighter financial conditions, including the sharp increase in Vero Beach mortgage rates in recent months.
Should the economy gain more momentum, however, fears that the Fed will taper off its bond purchases will most certainly resurface and rates will move higher again.
Despite recent increases, Vero Beach mortgage rates are still low by historical standards. During the housing boom years, they typically ranged between 6% and 7%. Higher rates should also prompt some banks to ease up on their lending standards, helping more people to buy homes.
It is believed that rates will be slightly higher in 2014, but not enough to derail the housing market recovery.