You probably already know that installing a Vero Beach home security system will give you and your family peace of mind, but are you aware of all the benefits of adding a security system to your home?
Maybe you question whether it's worth the added cost to install a security system in your Vero Beach home. Do they really prevent theft or are they just an unnecessary expense? Do they malfunction often, which can become a nuisance? What do they truly protect against, if anything?
Benefits of Having a Vero Beach Home Security System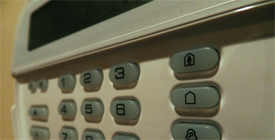 1. Installation of a Vero Beach home security system is relatively easy, whether you choose to do it yourself or you have it professionally installed. If you want to spend a little extra money to have an installer come to your home, you can rest assured that if the system malfunctions in the future, the installer will return to check out and fix the problem.
2. Often, your insurance company will give you a discount on your homeowner's insurance if you tell them you have a home security system. You may be able to save up to 20 percent on your insurance depending on your company and the type of alarm system you have.
3. Alarm systems can be installed in different ways, including doors, ceilings, walls and even windows. If you have limited space, you can probably still find room for an alarm system.
4. If a burglar is thinking of breaking into your home, they're likely to be deterred if they see that you have an alarm system. Monitored alarm systems alert the alarm company to a break-in, and in turn they notify police. When your alarm system is installed, you can opt to have a sign outside or a sticker on your house that shows that you have an alarm system. This alone can often-times prevent a break-in.
5. Many alarm systems come with additional features, like sounding a small beep when somebody enters the house or walks into a specific room. The alarm won't go off, but you'll know when people are coming and going.
6. You may be able to attach the alarm system to a recording device. If motion is detected in a room, a camera will click on and start recording any activity. Some alarms can even be monitored with a smart phone or a computer while you're away from your Vero Beach home.
7. You can find an alarm system that alerts you to other hazards as well. For example, many systems will sound an alarm if there's a fire or the presence of carbon monoxide.
8. When it's time to sell your Vero Beach home, having an installed alarm system can raise the value of your property. Since the new homeowner won't have to spend extra time or money to upgrade the house, this can increase the value of your home to a potential buyer.
9. If there are several homes in a neighborhood that have an alarm system, the percentage of crime in a community is usually lower overall. This makes a community more desirable to move into. Check with your neighbors to see how many other homes in your neighborhood have alarm systems.