Buying Vero Beach real estate in 2013 is likely to be very tricky for home buyers. Here's why: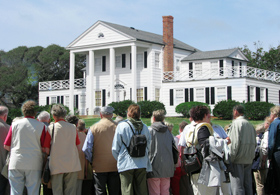 The number of homes for sale fell to a 13-year low nationwide in January, leaving would-be buyers chasing a shrinking supply of homes just before the spring selling season.
The Vero Beach real estate market is clearly rebounding, but not because prices are crazy. It's simply the old rule of "supply and demand" kicking into high gear. Buyers outnumber the available homes for sale in the Vero Beach real estate market.
The same problem is facing buyers on a national level as well. There was an average of 4.8 months of supply of existing homes for sale in the fourth quarter, according to the National Association of Realtors (that is, it would take 4.8 months to sell off the inventory at the current pace). Six months' supply is closer to normal. In 2010, the supply of existing homes was as high as 10 months.
Prices are starting to rise as a result of the strong demand relative to low supplies in the Vero Beach real estate market, with prices still about 30% below their peak. Reasons for the slim pickings aren't good news. Lenders are taking their time putting bank-owned properties on the market, in part to keep prices up.
Sellers are waiting until prices rise before listing their homes for sale. Nationwide, about 11.9 million homeowners are still underwater, according to estimates from Moody's Analytics. When you're underwater – that is, owning more on your mortgage than the home is worth – you're much less likely to list your home for sale.
Strategies for Shopping Vero Beach Real Estate in 2013:
Stay Calm in a frenzied market. Don't get caught up in the hype and think you have to have a certain house because you may not find another one. Be conservative, and be willing to wait.
Make your best offer. If you find yourself in a bidding war, you need to make your offer stand out. Be prepared to make the best offer. The danger is in overpaying, but in a rising market, when you look back 5 years from now, you're not going to be as concerned that you may have paid $5,000 over asking price to get the house you want now.
Pre-Approval is a must. In the competitive Vero Beach real estate market that we're in, buyers need to have a pre-approval letter in hand before even starting to look for homes. Be prepared for a stringent underwriting process. Lenders want to see a consistent income stream. And a gift or funds transfer must be well documented. One benefit to a pre-approval is that it sets a price limit on your home shopping. There's no sense falling in love with a place you can't afford to buy because you can't get approved for the loan.
Make a large down payment. When making an offer on any Vero Beach real estate, bringing more than 20% down to the negotiating table will make your offer more competitive. Sellers know the more you bring to the table, the less likely there will be a bank problem.
Find a good agent. An experienced real-estate agent may alert you to homes before they come on the market. Plus, if your agent is respected, that can help you stand out with the seller's agent.
Buying Vero Beach real estate this year can be a challenge. Stick with these tips when you're starting out, and you'll be ahead of the game you're competing in. For more information on buying Vero Beach real estate, check out our other articles in the Vero Beach Home Buying Tips section under Vero Beach Real Estate Categories to your right.