If you're one of the millions of people who constantly log on to Zillow.com to look up the "Zestimate" (Vero Beach home values according to Zillow) on your home, you may want to think twice before depending on that "Zestimate" to be anywhere even close to accurate.
Vero Beach Home Values Found to Be Inconsistent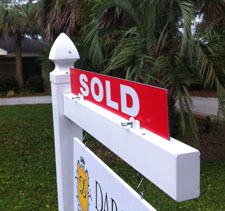 Those predicted Vero Beach home values estimates have been found to be wildly inaccurate and inconsistent.
In one recent comparison of existing home sales on Zillow, the "Zestimates" of 500 existing home sales that closed in a one week given time period in March found that the online values were within 5 percent of the actual sale price just half of the time.
The 50 percent accuracy rate within 5 percent of the sales price was right in line with Zillow's own research which is disclosed at their website:
The Zestimate's accuracy depends on location and availability of data in an area. Some counties have deeply detailed information on homes such as number of bedrooms, bathrooms and square footage and others do not. The more data available, the more accurate the Zestimate.
Nationally, the Zestimate has a median error rate of 6.9% percent, which means half of the Zestimates in an area are closer than the error percentage and half are farther off.
In some areas, Zillow admits they might not be able to produce a Zestimate at all, but they do have some basic information on the homes.
"It all comes down to the quality of the available data," Zillow spokesman Cory Hopkins said. Some areas just have better public and real estate listing and sale information than others that can be blended into the super-secret algorithm, which he added "is constantly tinkered with." He said the company "readily admits" it can't match a local real estate professional on the streets of a particular market.
If you want to know more accurately what Vero Beach home values are, you're better off calling a local professional rather than depending on numbers that may be, and likely are, way off in accuracy.