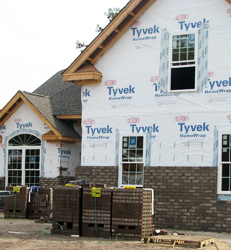 The U.S. Department of Commerce reports construction on new U.S. homes jumped in December to the highest rate in more than four years, with gains across the country, as well as in single-family homes and buildings.
In the fresh data signaling a strengthening housing market, starts rose 12.1% in December to a seasonally adjusted annual rate of 954,000 — the highest level since June 2008.
Economists had expected U.S. housing starts to increase to a rate of 883,000 from an original estimate of 861,000 for November, on factors such as rising building permits and confidence among home builders, as well as relatively mild weather for the season.
The DOC report released recently revised November's rate to 851,000. Data for U.S. housing starts can be volatile and is sometimes subject to large revisions.
An improving trend for housing starts echoes other recent housing data. Confidence among home builders is holding at a more-than-six-year peak, with more markets showing signs of recovery.
Housing is poised to provide a meaningful (and critical) lift to overall economic activity at a time when other growth drivers, like exports, are slowing.
The housing market has regained some footing after a historic collapse that helped push the economy into its worst recession since the Great Depression.
Last month, groundbreaking for single-family homes, the largest segment of the market, climbed 8.1 percent last month to a 616,000-unit pace.
Although mortgage rates have continually hovered near record lows in recent months, analysts remain concerned about overly stringent lending standards, as well as fallout from the ongoing fiscal uncertainty as a possible cause for rates to rise. In recent weeks, we've already seen a slight jump in rates.
For other news as it pertains to housing and the economy, check out Vero Beach Real Estate News under the Vero Beach Real Estate Categories.