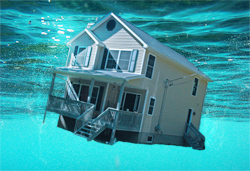 More and more homeowners who were once underwater and unable to move are now seeing home equity levels improve. As these equity levels improve, more people are getting in position to become "move-up Vero Beach homebuyers" once again.
These move up Vero Beach homebuyers are now able to provide a substantial down payment on a new home after gaining value on rising equity.
Rising Mortgage Rates Encouraging Move Up Vero Beach Homebuyers
Much of the desire for move up Vero Beach homebuyers lies behind rising mortgage rates. They know if they don't move now, they might be kicking themselves all over again in three to six months. Historically, rates remain very low, and even though trending down slightly recently, experts predict they will continue to gain steam as we move into 2014.
More move-up Vero Beach homebuyers are in a better position to move now than they were a year ago. Forty percent of all home owners now have at least 20 percent or more of equity in their homes now, according to RealtyTrac data.
8.3 million additional home owners are expected to have at least 20 percent equity within the next 15 months if home prices continue to appreciate at the same pace, says Daren Bloomquist, vice president of RealtyTrac. Bloomquist adds that if 5 percent of these home owners decide to sell their homes, that would amount to an additional 415,000 homes for sale in the coming months.
This rising trend of move up Vero Beach homebuyers reflects a market that is fully transitioning from investor purchases of distressed homes to primary home purchases by households. The market continues to improve as more previously underwater homes gain equity due to recent upward movements in price.
An important sign of a healthy and sustainable recovery is increased housing turnover driven by trade-up buying, which is more or less discretionary spending. These buyers tend to be more responsive to market conditions and financial incentives as opposed to first time homebuyers.
To stay on top of the Vero Beach housing recovery, check out our other articles and tips by clicking on the Vero Beach Real Estate News link to your right under Vero Beach Real Estate Categories.