Signs of a strengthening housing market continue to surface, with single family new home sales reaching their highest level in nearly five years during May.
The Commerce Department reports that sales increased 2.1 percent to a seasonally-adjusted annual rate of 476,000 units — the highest level since July 2008.
Third Straight Month for New Home Sales Gains
May also marks the third straight month of gains in new home sales.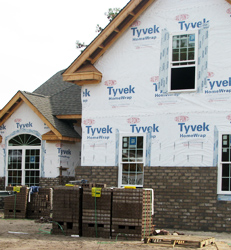 "Builders are reporting increased demand for new homes as buyers seek to take advantage of historically low mortgage rates while they remain so favorable," said Rick Judson, chairman of the National Association of Home Builders (NAHB). "Consumers in markets nationwide are definitely becoming more confident about making a home purchase as firming prices and tighter inventories provide further evidence of the ongoing housing recovery."
The big uncertainty, however, pertains to how increasing interest rates will affect the recovery. Housing analysts expect a slowdown in home price gains — and possibly a loosening of tight inventories.
Even above 4 percent, mortgage rates remain historically low — even though chances are slim to none that the 30-year fixed rate will again see its all-time low of 3.31 percent.
Three out of four regions posted sales gains in May, with double-digit increases of 20.7 percent and 40.7 percent in the Northeast and Midwest, respectively, and a more moderate 3.6 percent gain in the West. The South posted a 9.0 percent decrease following an unsustainably large gain in the previous month.
The inventory of new homes for sale edged up slightly to 161,000 units in May, which is a 4.1-month supply at the current sales pace.
"The latest report confirms that the improvement we have been seeing in housing markets over the past year continues to take place at a gradual and steady pace," said NAHB Senior Economist Robert Denk. "We expect to see more of this positive momentum in the coming months, tempered by the caution that builders are exercising to avoid getting ahead of demand along with ongoing constraints they face with regard to the availability of credit, materials, lots and labor."