Vero Beach home values are expected to continue increasing for the next four years. The majority of more than 100 forecasters says they expect large-scale investors to sell off the bulk of homes in their portfolios during that time frame, boosting inventory and potentially contributing to a smoother market ahead. According to panelists in the latest Zillow® Home Price Expectations Survey, a nationwide home value appreciation of 4.5 percent is expected this year, with a steady slowdown in appreciation rates each year through 2018.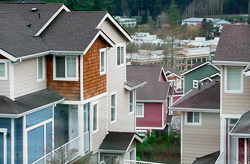 Throughout the recovery, large-scale investors have purchased thousands of homes nationwide, particularly lower-priced vacant and foreclosed homes, fixing them up and keeping them in their portfolios as rental properties. This investor activity helped put a floor under sales volumes during the depth of the housing recession, but also created competition for many would-be buyers and contributed to rapid Vero Beach home values in some areas.
Panelists were asked to assess the impact on Vero Beach home values if these institutional investors were to curtail their activity this year. Among those expressing an opinion, 79 percent says the impact would be significant or somewhat significant. Panelists were also asked when they thought these investors will have sold the majority of homes in their portfolios. Among those with an opinion, 57 percent says they expected this to occur in the next three to five years.
There is a growing sentiment that a decline in investor activity now isn't necessarily a bad thing for Vero Beach home values, and could also have real benefits for buyers. Buyers entering the market in the next few months will not be competing with cash-rich investors like they were last year which should be some small solace given the higher prices and mortgage rates they will be facing. The gradual decline of investor activity should be viewed as another sign of the market slowly returning to normal.
Panelists were also asked when the Federal Reserve should end its ongoing stimulus efforts, known as "quantitative easing." Since September 2012, the Fed has been purchasing tens of billions of dollars worth of Treasury bonds and mortgage securities each month, which has helped keep mortgage interest rates low and stimulate demand. The program is now being wound down. More than 70 percent of the experts want to see the monetary stimulus reduced to zero before the end of this year, and the current pace of tapering will get us there.
Vero Beach Home Values Expected to Normalize through 2018
On average, panelists says they expect Vero Beach home values to appreciate at around 4.5 percent through the end of this year, a pace that exceeds historically normal annual appreciation rates of around 3 percent. This appreciation is expected to slow to roughly 3.8 percent in 2015 and 3.3 percent by 2018, rates much more in line with historic norms.
The most optimistic group of panelists predicted a 5.6 percent annual increase in Vero Beach home values this year, on average, while the most pessimistic group predicted an average increase of 3.4 percent. The most optimistic panelists predicted Vero Beach home values would rise roughly 10.6 percent above their 2007 peaks by the end of 2018, on average, while the most pessimistic says they expected Vero Beach home values to remain about 4.5 percent below 2007 peaks.
Get more news about Vero Beach home values and real estate by clicking the Vero Beach Real Estate News link to your right under Vero Beach Real Estate Categories.