Vero Beach housing is facing what some financial experts call "very concerning circumstances" when it comes to rising mortgage rates.
Peter Tchir of TF Market Advisors, a New York research, asset management, and consulting firm, puts it quite simply, "Rising rates are bad, particularly bad when it comes to one of the bright spots for the U.S. economy: housing."
How Rising Rates Affect Vero Beach Housing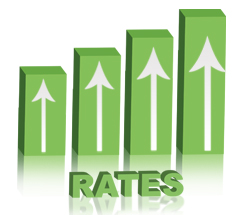 Recent increases in mortgage rates adds roughly $90 to $100 onto the monthly mortgage payment for the typical $250,000 house. Rates for a 30-year fixed mortgage tend to track the 10-year Treasury rate very closely. Yields on the 10-year Treasury note hit their highest level in more than a year recently.
Although rates remain very low based on historical standards, Tchir thinks this is significant headwind for potential buyers who have been on the fence. And he counts a lot of people in that category given the lack of growth in high paying jobs during the economic recovery. Tchir points out much of the job growth post-recession has come from lower paying, service-oriented industries or in temporary services.
As for housing, mortgage applications (particularly for refinancing) have dropped in recent weeks. Tchir thinks we could see a real slowdown exacerbated if and when the Federal Reserve begins to taper its bond-buying program, which would remove support for Vero Beach housing.
Rates are likely to keep rising, but how far must rates rise before buying a home starts to look expensive relative to renting? At today's prices and rents, buying would be cheaper than renting until the 30-year fixed rate reaches 10.5%. At current 30-year fixed rates according to Freddie Mac, buying is 41% cheaper than renting nationally. With a 5% mortgage rate, buying is still 34% cheaper than renting nationally.
So even though rates for buying Vero Beach housing is on the rise, it's still a lot cheaper than renting. Contact us today for current rates and available inventory of homes for sale.