If you're selling a Vero Beach home, making minor improvements may help you get a faster sale.
Make sure your property looks good and is nicely spruced up on the outside, rather than considering larger scale renovations that may not recoup your investment.
Selling a Vero Beach Home – Best Improvements to Consider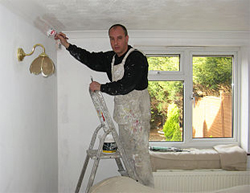 A recent survey canvassed interior designers and real estate agents, asking them to identify the best home improvements sellers could make. According to the article in Propertywire, it was agreed that minor improvements such as redecorating walls in neutral colors, and making other minor improvements such as landscaping upgrades could be cost effective and may help achieve a faster sale.
It was also agreed that sellers should avoid taking out costly projects just before selling a Vero Beach home, as the increase in the sales price might not equal the money and time spent on remodeling the property. Instead sellers are advised to focus on improvements that will help broaden the appeal of the home while bringing it up to reasonable standards.
Buyers are expected to have an increased choice of properties on the market this year compared to last year. It's best to concentrate on improvements that will appeal to the largest number of people. Buyers tend to shy away from inheriting someone else's style and taste. Instead freshly painted rooms in neutral colors, a neat and tidy yard and a clutter free home will always give a property added appeal to the most number of people. The number one piece of advice is to make sure the home looks good from the outside, and that it has good curb appeal. A freshly painted front door combined with a clean and tidy entrance helps to give good first impressions.
When selling a Vero Beach home, although major renovations are not recommended, sellers are advised to spend a little bit of money on smaller updates. These might include renewing older style lighting fixtures, and carrying out minor kitchen and bathroom updates. This might be something as simple as just renewing out-of-date cabinet or door handles.
De-cluttering is at the top of the list of things to do when selling a Vero Beach home, as is thoroughly cleaning the home. If the property feels spacious and clean it makes it easier for potential buyers to envision living there.
Check out our other articles and tips on selling a Vero Beach home by visiting the home selling tips section of our website to your right under our Vero Beach Real Estate Categories.