Selling your Vero Beach home? You may now have the upper hand, but to get your best price, you need to finesse your timing and list competitively.
Lower Your Sights When Selling Your Vero Beach Home
In a recent poll, brokers complained that 75% of homeowners think their agent's recommended listing price was too low. Pricing your property above recent sales to cash in on the momentum may slow down deals, and sitting on the market too long can stigmatize a house.
Catch buyers' attention — and get multiple offers — by pricing your Vero Beach home in line with comparable sales.
It's tempting to put off selling your Vero Beach home to hold out for a better price. But if you want to move to a larger place, act sooner rather than later. Although higher-end homes aren't rising as quickly, the gap is small. So while you'll be able to sell your Vero Beach home for more if you wait, the appreciation on the trade-up home will be greater.
Renovate Before Selling Your Vero Beach Home
Repair that leaky roof and address other obvious structural problems, or you'll have to subtract the cost of doing so from your price. In today's economy, many buyers don't have as much savings left over after their down payment for improvements.
Smaller fixes that pay off the most, according to a HomeGain poll of real estate professionals and consumers: cleaning and de-cluttering, brightening (adding lamps and clearing window obstructions), and solving electrical and plumbing problems.
The best time to glamorize: right before you post your listing online, where 90% of buyers look first.
When Selling Your Vero Beach Home, Appraisals Are Key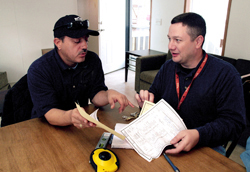 While rapidly rising prices may attract more buyers, the upswing can make it harder to close a sale. One-third of realtors polled in December reported setbacks from low appraisals, including delays in closing, lowered prices, and cancellations.
Appraisals can come in low because they're based on transactions as old as six months — out of date, perhaps, in today's market. Have your agent personally oversee the process, accompanying the appraiser to point out improvements and supplying data about the latest comparable sales.
The cards may be stacked in your favor if you're selling your Vero Beach home, but you need to use the tips we've mentioned here to keep from having a home that just sits on the market due to not conforming to what the market wants and demands.
We have more Home Selling Tips here at our website. Just browse the Vero Beach Home Selling Tips under our Vero Beach Real Estate Categories.