Vero Beach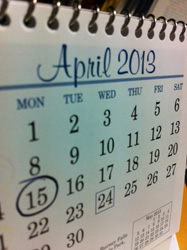 homeowners will soon be turning the calendar and looking squarely at April 15, the day income taxes are due. If you haven't already done your taxes, you should be gathering up your W2s, 1099s, bank statements and receipts. If you're missing anything, you don't want to wait until April 14th to figure that out.
A few Congressional scares slipped by the cutting block again, at least for this year. Congress did not modify or repeal your right to deduct the mortgage interest you pay for being a Vero Beach homeowner. There are, however, some limitations for high-income earners. If you are single and earn more than $400,000 (or more than $450,000 if married), personal exemptions will be phased out and itemized deductions will be limited. If you fall in that category, you should discuss your specific situation with your tax or financial advisers.
Congress did not increase the capital gains tax rate for people who are not high-income earners. If you sold your principal house and lived there for at least two of the five years before it sold, you can exclude up to $250,000 of your gain if you are single (or up to $500,000 if you are married and file a joint tax return).
5 Major Tax Tips For All Vero Beach Homeowners This Year
1 – You have to itemize. If you're looking to get tax deductions for a home you bought, something you did to your home, or something that happened to your home, you're going to have to itemize your deductions, rather than taking the standard deduction. Fortunately, if you're filing through TurboTax or another credible online program, you can itemize everything and then see whether or not you've topped the standard deduction, saving you a lot of complicated math.
2 – The Interest Deduction. The interest paid on your mortgage for being a Vero Beach homeowner might be good for a tax break. If you paid interest on your mortgage in 2012, it may be deductible. Basically, if you are itemizing deductions and you are filing a 1040, and your home loan qualifies, you can write off some or all of the interest you paid.
If you became a new Vero Beach homeowner in 2012, on a mortgage of up to $1 million, you can deduct the interest you paid at settlement if you itemize your deductions. This amount should be included in the mortgage interest statement provided by your lender.
If you paid points to obtain your mortgage, these fees are included on the income tax deductions list and can be deducted as long as they are associated with the purchase of the home. If you refinanced your home, these points are still deductible, but it must be done over the life of the mortgage.
3 – Property taxes.  Property taxes are sort of all over the map in the U.S., but a lot of areas offer tax breaks on property taxes as incentives for homeowners. Property tax exemptions vary not just by state, but by jurisdictions within each state. Research and paperwork might require some time, but the effort could lower your tax bill noticeably if you're a Vero Beach homeowner.
4 – Home Office. More and more people are working from home these days (unless you work for Yahoo!). If you use a portion of your home exclusively for the purpose of an office for your small business, you may be able to claim a deduction on your taxes for costs related to insurance, repairs and depreciation. You may only claim this deduction if the space within your home is used exclusively and regularly as either your principal place of business or a place where you meet and deal with customers or patients. You may also be able to take advantage of this deduction if a portion of your home routinely is used for storing items (product samples, inventory, etc.) used in your business.
5 – Home Improvements. As a Vero Beach homeowner, if you installed new, energy-efficient appliances, doors, windows, or other systems in your home and haven't exceeded the consumer energy efficient credit in previous years, you can save up to $500 (or even more), just for going green!
If you've taken out a loan to make improvements on your home, you may be able to deduct the interest on this loan. Qualifying loans are those taken out to add "capital improvements" to your home, meaning the improvement must increase your home's value, adapt it to new uses or extend its life. New carpeting or painting are not considered capital improvements, while adding a garage, installing a water heater or building a deck are all examples of capital improvements.
Obviously there are many more deductions you may qualify for as a Vero Beach homeowner, but these are 5 of the most common. We strongly suggest you consult with an accountant or tax attorney if you're not familiar with all the laws and changes that may or may not affect you as a Vero Beach homeowner.
For more tax tips, hop over to our Taxes Category under the Vero Beach Real Estate Categories to your right. We have a lot of additional tax tips for you there.