Prospective Vero Beach home buyers are seeing the housing market continue to recover, with home prices in some areas rising as much as 13 percent over the past year. The rise in home prices has helped a lot of homeowners get out from being underwater on their mortgage. Leftovers from the housing crisis however continue to make it too hard for families to access the credit they need to purchase a home.
Prospective Vero Beach Home Buyers Struggling With Credit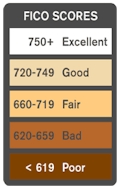 Many would-be Vero Beach home buyers are still struggling with credit histories that should make them eligible for mortgages under normal circumstances, but they are still unable to find lenders willing to approve them for a mortgage at an affordable rate.
Estimates from Moody's suggest that if the acceptable credit score reverted to the more traditional and sustainable standards that existed prior to the housing bubble, then the pool of potential mortgage borrowers could increase by more than 12.5 million households nationwide.
The Federal Housing Administration (FHA) and the Federal Housing Finance Agency (FHFA) took important steps recently to ensure that more responsible, creditworthy families can obtain a loan when they're ready and prepared to become Vero Beach home buyers — while ensuring we don't return to the days of unsound lending practices. These steps respond to a basic question presented in the mortgage data: If responsible borrowers have a credit history that should make them eligible for loans — especially in a housing market and an economy that is growing stronger — why haven't these loans been made?
It seems that a perceived lack of clarity by lenders about how mortgage guarantees will be treated has made them more cautious in lending to eligible borrowers with credit histories that are anything less than perfect.
The new rules coming down the pike would provide FHA assurance that loans that meet their credit guidelines can be originated without fear of penalty and announced additional benefits to borrowers who receive housing counseling services. The FHFA gave new clarity as to the circumstances under which lenders would be required to repurchase defaulted Fannie Mae- and Freddie Mac-guaranteed loans.
Some Vero Beach Home Buyers Already Seeing Benefits
Already some lenders have lowered the credit score they are willing to accept for government-guaranteed loans for Vero Beach home buyers.
The bill known as the Housing Finance Reform and Taxpayer Protection Act of 2014 hopes to complete a major piece of unfinished business from the financial crisis. This bill should help more prospective Vero Beach home buyers be able to find a lender willing to underwrite the mortgage needed to finance a home purchase.
Check out our other articles and news affecting Vero Beach mortgage rates and how rates and qualification requirements can help more Vero Beach home buyers by clicking on the Vero Beach Mortgage Info link to your right under Vero Beach Real Estate Categories.