Rising mortgage rates are the biggest worry for prospective Vero Beach home buyers. Bigger than rising prices and the lack of available inventory, according to a survey released recently by Trulia.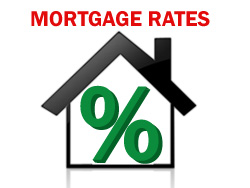 The survey suggested that rates — which remain below 5% — aren't likely to be a deterrent to Vero Beach home buyers just yet.
Mortgage rates have jumped in recent weeks, creating concerns that the rebounding real estate market could lose steam. A separate survey released recently from the Mortgage Bankers Association showed that interest rates for a 30-year fixed mortgage rose to 4.68% recently — the highest rate in two years.
Trulia surveyed about 2,000 people over three days in late June, just after rates began to spike upward. Some 41% of respondents said their biggest worry was that mortgage rates would rise before they were able to buy a home. That was more than the 37% who were worried about prices rising and the 36% who worried that they wouldn't be able to find a home they liked.
While rising mortgage rates have yet to have a noticeable effect on purchase mortgages, they have already led to a steep decline in refinancing. But, over time, rising rates should slow down recent price growth.
How High is Too High for Vero Beach Home Buyers?
The bigger question is how high is too high? The answer to that, Trulia says, is 6%. After combining the responses to several questions, Trulia found that some 56% of respondents who planned to buy a home would be discouraged if rates hit 6%. Among renters who planned to buy, about 62% would be discouraged if rates hit 6%.
Economists have been expecting rates to increase because the economy is improving and market expectations that the Federal Reserve will ease up on bond buying and other extraordinary measures designed to keep interest rates low.
Vero Beach home buyers who want to take advantage of the low interest rates on buying a home need to move now in order to avoid even higher rates and higher prices. Contact us today for the most current mortgage rates and plans available for Vero Beach home buyers.