If you're thinking of doing some Vero Beach home improvements, depending on the level of the improvements, you may need to consider hiring a contractor to do the job. There are several steps we recommend when looking for contractors.
Vero Beach Home Improvements – Finding the Right Contractor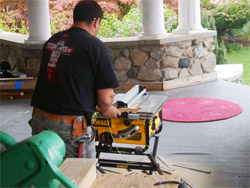 It may seem a bit ridiculous to even mention this, but you need to know exactly what you want to have done. The more information you have available for the contractors, the better. Only by knowing specifically (down to the last detail) what you want to have done will you be able to compare bids from different contractors for the same work.
If you're getting a bid from one contractor, then have a second or third contractor bid something different, even slightly, then you're not going to know who really offers the best price on your Vero Beach home improvements.
Vero Beach Home Improvements – Forget the Yellow Pages
Try to get personal referrals, rather than relying on the phone book. If you have a friend or a relative who had some work done on their home they were pleased with, that's a great starting point. You can get some honest feedback about the contractor's skill level, price, scheduling, level of cooperation, and much more. There are a lot of contractors out there to choose from, and, like most businesses, they succeed or fail mostly by their reputation, so a good referral is very helpful.
If you see some work going on down the street, stop and talk to the homeowner. Most people are more than willing to share their experiences — good and bad — about the contractor they've hired, and here again you can get some great firsthand information.
If you're planning some Vero Beach home improvements, some other good sources of referrals include real estate agents, insurance agents, property managers, your utility company, and your local building department.
Detail Your Vero Beach Home Improvements In Writing
Have a written contract that describes all the details of your agreement with the contractor, including materials to be used, a description of what's to be done, beginning and completion dates, price, and a payment schedule. Never pay in full upfront, even if you're offered a discount. Make a reasonable down payment if it's requested, typically no more than 20 percent, then make payments as the job progresses. The payments should be tied to specific completions, such as completion of frame inspection, completion of final inspection, or something else that you can easily verify.
We have other tips and articles about Vero Beach home improvements under our Vero Beach Real Estate Categories to your right.