Everyone who owns a Vero Beach home must face routine maintenance, such as replacing worn-out plumbing components or staining a deck, but some choose to make improvements with the intention of increasing the home's value.
Certain projects, such as adding a well thought-out family room – or other functional space – can be a wise investment, as they do add to the value of your Vero Beach home. Other projects, however, allow little if any opportunity to recover the costs when it's time to sell.
Things You Think Add Value To Your Vero Beach Home, But Really Don't
Swimming Pool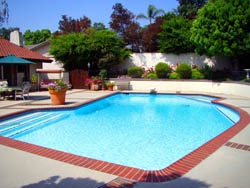 A swimming pool is one of those things that may be nice to enjoy at your friend's or neighbor's house, but can be a hassle to have at your own Vero Beach home. Many potential homebuyers view swimming pools as dangerous, expensive to maintain and a lawsuit waiting to happen. Families with young children in particular may turn down an otherwise perfect house because of the pool (and the fear of a child going in the pool unsupervised). In fact, a would-be buyer's offer may be contingent on the home seller dismantling an above ground pool or filling in an in-ground pool.
An in-ground pool costs anywhere from $10,000 to more than $100,000, and additional yearly maintenance expenses need to be considered. That's a significant amount of money that might never be recouped if and when the house is sold.
High-End Upgrades
Installing stainless steel appliances in your kitchen or imported tiles in your entryway may do little to increase the value of your Vero Beach home if the bathrooms are still vinyl-flooring and the shag carpeting in the master bedroom is leftover from the '60s. Upgrades should be consistent to maintain a similar style and quality throughout the home. A remodel might not fetch as high a return if the rest of the home is not brought up to the same level. High-quality upgrades generally increase the value of high-end homes, but not necessarily mid-range houses where the upgrade may be inconsistent with the rest of the house.
Wall-to-Wall Carpet
Potential homebuyers today often cringe at the idea of having wall-to-wall carpeting. Carpeting is expensive to purchase and install. In addition, there is growing concern over the healthfulness of carpeting due to the amount of chemicals used in its processing and the potential for allergens (a serious concern for families with children). Add to that the probability that the carpet style and color you thought was absolutely perfect might not be what someone else had in mind.
Overbuilding for the Neighborhood
Homeowners often make improvements to their property that unintentionally makes the home fall outside of the norm for the neighborhood. While a large, expensive remodel, such as adding a second story with two bedrooms and a full bath, might make your Vero Beach home more appealing, it will not add significantly to the resale value if the house is in the midst of a neighborhood of small, one-story homes.
Homebuyers don't want to pay $450,000 for a house in a neighborhood with an average sales price of $250,000; the house will seem overpriced even if it is more desirable than the surrounding homes. The buyers will instead look to spend the $450,000 in a $450,000 neighborhood. Your house with all its improvements might be beautiful, but any money spent on overbuilding might be difficult to recover unless the other homes in the neighborhood are pretty much the same.
Extensive Landscaping
Vero Beach home buyers may appreciate well-maintained or mature landscaping, but don't expect the home's value to increase because of it. A beautiful yard may encourage potential buyers to take a closer look at the property, but will probably not add to the selling price. If a buyer is unable or unwilling to put in the effort to maintain a garden, it will quickly become an eyesore, or the new homeowner might need to pay a qualified gardener to take charge. Either way, many buyers view elaborate landscaping as a burden (even though it might be attractive) and, as a result, are not likely to consider it when placing value on the home.
The Bottom Line
It's hard to imagine spending thousands of dollars on a home-improvement project that will not be reflected in the home's value when it comes time to sell. There is no simple equation for figuring out which projects will bring the highest return, or the most bang for your buck. Some of this depends on the local market and even the age and style of the house.
Homeowners frequently must choose between an improvement they would really love to have (the in-ground swimming pool) and one that would prove to be a better investment. A bit of research, or the advice of a qualified real estate appraiser, can help homeowners avoid costly projects that don't really add value to your Vero Beach home.