January is fast slipping away and many New Year's resolutions have already bitten the dust, but if you're thinking of doing some Vero Beach home improvements this year, here are some that won't break the bank and still give you a fresh look.
Keep in mind, any Vero Beach home improvements you decide to make won't just be for your benefit, but they could ultimately help lure potential home buyers, if and when you decide to sell.
Inexpensive Vero Beach Home Improvements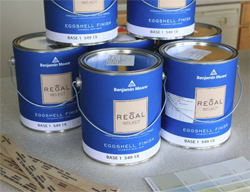 Painting
Nothing brightens up a room quicker and more dramatically than a fresh coat of paint.
If you're tired of the color you have in a room, you can go dramatic, or just go light to freshen up the place.
Find a color that makes you happy but remember, if you plan on selling in the near future, neutral colors are best.
Faucets
Replacing old dingy or outdated looking faucets with new, modern, sleek faucets in the kitchen or bathroom can add just that extra touch the room is crying out for.
Hardware
While you're replacing those outdated faucets, another one of the great, but inexpensive Vero Beach home improvements you can do is changing the hardware on your cabinets. You can introduce a metal or different texture, opt for contrast to the cabinet color. Not a lot of money to make a room look more modern and fresher.
Floors
If your carpets are looking a little on the worn, soiled side, you have a choice to make. You can get them professionally cleaned, which sometimes does the trick if they're not too old. Or, you can go for new carpet — or other flooring like tile or wood. Aside from paint, nothing brightens up a room like new carpet or flooring. But be careful, floors are one of the Vero Beach home improvements that run up your budget in a hurry when you may not have planned for it.
Molding / Backsplash
If you just want to bring an elegant, refined look to your home and do something that might attract future buyers, consider crown molding or a kitchen backsplash. Both are fairly easy and inexpensive but add a new dimension and depth to the room.
These are just a few of the Vero Beach home improvements you might want to consider. For other ideas, click over to our Vero Beach Real Estate Categories and choose the Vero Beach Home Improvements category for more tips and ideas.