It used to be that exterior Vero Beach home maintenance involved painting some form of wood siding, or installing vinyl siding over your wood (if you didn't have brick or stone siding.) That meant supposedly never having to paint again, but you sacrifice the architectural beauty of wood.
New Products Save on Vero Beach Home Maintenance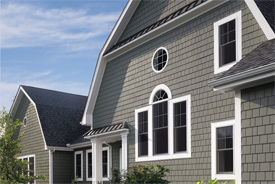 Now, a new breed of manufactured products looks realistic enough to preserve or even boost your home's appearance. Many of these new products are pricier than the natural versions, but in the long run, will save you money and effort.
One of the most dramatic new products to hit the market that will help cut the cost of your Vero Beach home maintenance is Fiber-Cement Siding.
These clapboards and shingles are cut from sheets of special, slightly flexible cement mixed with wood fibers. This siding won't rot, warp, or cup. The pieces are typically factory painted, then nailed one by one onto your house, just like the real thing. That creates an authentic, handcrafted look.
Factory paint will last 15 years. Then repaint every seven to 10 years, compared with five to seven years for wood.
Vero Beach Home Maintenance Includes Trim
Now there is a new, Cellular PVC trim. This natural-looking trim is made from the plastic used for plumbing drains, with air added while the material is molten for woodlike density. Your contractor can cut, shape, and install the boards just like lumber.
PVC doesn't need painting, though a couple of coats will add realism. If you do, repaint every 25 years, vs. five to seven years for wood. Hiring a pro to paint only your trim might cost $1,500 or more. Figure that in, times at least 4, for painting wood trim versus PVC that won't need it all, or at most, ever 25 years.
Figure about $75 to trim a window (including installation), or $3,500 for an entire house, both about 10% more than pine, but you'll save that in the cost of not painting your pine trim every few years.
Vero Beach Home Maintenance – Don't Forget The Doors
And finally, for your exterior Vero Beach home maintenance, consider fiberglass entry doors.
Fiberglass doors are made of thin, waterproof fiberglass skins embossed to look as if they have traditional panels, moldings, and even woodgrain. Inside is an insulating foam that's three times as energy-efficient as wood.
As with wood, you'll need to touch up the paint or apply a fresh coat of varnish every five years or so (about $100, assuming you already have a painter or handyman coming to tackle other projects). Yet these doors will never warp, crack, or split.
Most fiberglass doors come with a lifetime warranty, whereas most wood door warranties are generally only five years.
So as you can see, Vero Beach home maintenance doesn't have to be an ongoing thing if you consider moving up to some of the more modern manufactured products that have come on the market in recent years.
To get more tips on Vero Beach home maintenance and ways to save money by doing-it-yourself, check out our other articles by clicking on the Vero Beach Home Improvements link to your right under Vero Beach Real Estate Categories.