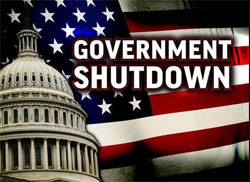 Vero Beach home prices were largely unaffected by the 16 day government shutdown.
Aside from asking prices, the housing market remains uncomfortably tied to Washington and its budget mess, such as the shutdown's effect on mortgage processing for home purchases and the potential effect of a default on the housing market and economy.
Other Factors Affect Vero Beach Home Prices
It's difficult to figure out how the shutdown may or may not have hurt Vero Beach home prices when there's a whole host of other factors – including seasonal changes, rising interest rates and a (slowly) improving job market – to contend with.
Nationally, asking home prices are up 1.0% between September and the first half of October, seasonally adjusted. This partial month-over-month increase is roughly in line with the month-over-month increases over the past few months. Before the shutdown started, several factors were already cooling down price gains, including expanding inventory, higher mortgage rates, and declining investor activity. Therefore, comparing how much Vero Beach home prices have risen or fallen in October with previous months can't, by itself, show whether the shutdown has directly affected Vero Beach home prices one way or the other.
But the nationwide housing recovery still depends on what the federal government will do in the coming months about Fed tapering, new budget negotiations, and the reform of Fannie Mae and Freddie Mac.
We'll be keeping a close eye on what Washington does (or doesn't do) in the coming days, weeks and months ahead, and let you know right here how we see it all affecting Vero Beach home prices, and the Vero Beach housing recovery in general.