Planning to do some Vero Beach home remodeling and think you have it planned down to the penny what it's going to cost? Better think again.
We've touched on the importance of making sure you have a budget in other articles we've posted on this subject. Even when people make a budget, what they often forget is to factor in for surprises.
It's always a good idea to budget 20 to 30 percent over your remodeling estimate so that you're covered no matter what happens. Here's just a sampling of the surprises you might encounter when tackling a Vero Beach home remodeling job.
Vero Beach Home Remodeling – Hidden Horrors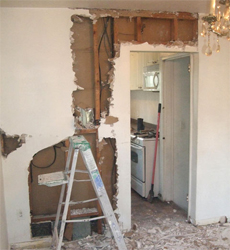 If demolition reveals a colony of creepy crawlies lurking beneath your drywall, you'll have to call in the pest control folks to evict them before work can proceed. Insects and vermin are just one unpleasant surprise you might discover — you never truly know what's going on behind the walls until you tear them out. Prepare for the possibility of mold, faulty wiring or plumbing, asbestos and other pricey pitfalls.
Vero Beach Home Remodeling – Storage Issues
You'll need to stash your stuff somewhere while work is in progress. If you don't have a garage, attic, basement or a willing friend with a large spare room, you may need to rent an offsite storage unit for the duration of your Vero Beach home remodeling project. Depending on size and other factors, these units can cost anywhere from $20 to a few hundred bucks a month.
Vero Beach Home Remodeling – Higher Utility Bills
Who's electricity powers all those table saws, nail guns, paint sprayers and floor sanders? That's right — yours! In addition, heavy traffic in and out of the house could cause your heating and cooling bills to escalate, especially in hot or cold weather.
Vero Beach Home Remodeling – Eating Out
Does your Vero Beach home remodeling project include a kitchen makeover? You won't be whipping up meals in your brand new kitchen for a while, and you can spend a small fortune on restaurant meals and takeout in the meantime. Even prepared or microwaveable foods cost significantly more than cooking from scratch, so add this cost into your budget.
Vero Beach Home Remodeling – Higher Property Taxes
Major additions or updates, particularly in spaces such as kitchens and baths, can increase your home's assessed value, and that can enlarge your tax bill. Assessors typically get copies of building permit applications, so they'll know about your project and may determine that it warrants upgrading your home's value.
These are just a few of the many costs you may need to factor in when planning the budget for your Vero Beach home remodeling. If you've done a remodeling job and had hidden or unexpected expenses related to the job that we haven't covered here, tell us about them in the comment box below.