Here's a breakdown of why Vero Beach housing and housing nationwide has continued to decline this year: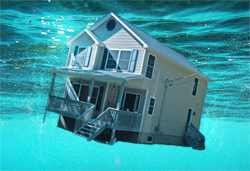 Many homeowners are underwater: More than 10 million homeowners, including many who own Vero Beach housing, owe more on their mortgage than their homes are worth. Underwater owners aren't likely to sell unless they need to move due to changing life (marriage, divorce) or financial circumstances, and they'll take a hit on their credit for pursuing a short sale, where the bank allows the home to sell for less than the amount owed.
Everyone wants to buy at the bottom, but few want to sell: Even those people who do have plenty of home equity are likely reluctant to sell if they think prices will be higher next month. Would you sell your largest asset today if you thought it might be worth 5% more next year? This helps explain why markets such as Vero Beach, which has smaller shares of underwater borrowers, have also seen double-digit inventory declines.
Banks have been slower at foreclosing: Banks and other companies that process delinquent mortgages have had trouble proving that they've followed state law in taking title to homes ever since the "robo-signing" scandal surfaced in late 2010, and they've also had to meet a host of new state and federal rules governing loan modifications and foreclosures from settlements spawned by the robo-scandal. Banks have also become better about approving short sales and loan modifications, which has curbed the flow of foreclosed properties onto the market.
Builders have been building fewer homes: Vero Beach housing starts were severely depressed from 2009 through 2011 and have only recently rebounded off of those low levels. Consequently, there's been much less new home inventory being added to the market at a time when demand (boosted by increases in household formation) is picking up. If more homes are held off the market — for any of the reasons stated here — you can bet that builders will move in to fill the void.
For 2012 as a whole, sales were up 9% to 4.65 million units, the highest annual total since 2007.
Prices, meanwhile, are picking up because the number of homes for sale continues to drop despite the sales volume gains. The number of homes for sale nationwide fell to 1.82 million at the end of 2012, an 8.5% drop from November and a 21.6% decline from one year earlier.