Vero Beach mortgages continue to see an increase over their all time record lows, but the good new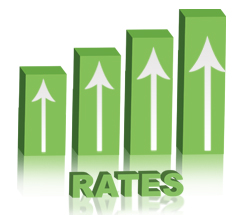 s is, in terms of being relative, rates are still near the bottom. There's still plenty of opportunity to refinance or buy a home and save a bundle. But if you keep waiting, all indications are you're going to miss out.
U.S. job growth grew modestly in January and gains in the prior two months were bigger than initially reported, supporting views the economy's sluggish recovery was on track despite a surprise contraction in output in the final three months of 2012.
According to the most recent Labor Department statistics, employers added 157,000 jobs to their payrolls last month. There were 127,000 more jobs created in November and December than previously reported.
The unemployment rate, however, edged up 0.1 percentage point to 7.9 percent. The closely watched report also showed an increase in hourly earnings and solid gains in construction and retail employment.
Where Do Vero Beach Mortgages Go From Here?
It would appear that Vero Beach mortgages will continue to slowly get more expensive, and according to analysts who track and forecast these things, rate increases show no sign of stopping anytime soon. There may be brief pauses in the increases, even a slight move down from time to time, but all indications now point to continuous increases in what consumers will pay for Vero Beach mortgages for the foreseeable future.
A survey of analysts showed split expectations, with 40 percent forecasting a rise in rates and 40 percent anticipating a fall. 20 percent said they don't expect a great variance from where rates are now. So, it's anyone's guess.
For more on Vero Beach mortgages, see our Vero Beach Mortgage Info section of articles under the Vero Beach Real Estate Categories to your right.