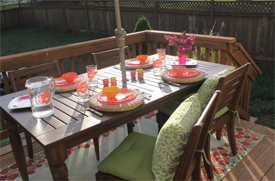 If you're thinking about putting your home on the market in time for the Vero Beach real estate sales season, you better move now! Not next month, not next week. Do it right now!
Spring is coming, and that is certainly driving a lot of the interest in Vero Beach real estate currently listed for sale. But there are other factors at play.
Incentives for Vero Beach Real Estate Buyers
Mortgage rates have declined over the past month and are currently trending back toward 4% for traditionally structured, well qualified loans. This is a significant development for buyers, as interest rates are a huge driver of home affordability.
For example, a traditional 30-year, $250,000 mortgage at 4.5% would have a monthly payment of $1267. If rates declined to 4.25%, the payment would change to $1230.
For Vero Beach real estate borrowers on the edge of qualifying for a mortgage, that $37 per month savings could make the difference between getting a loan approval or not. Over the life of the loan, that 0.25% difference saves the borrower $13,320!
The Urgency for Vero Beach Real Estate Buyers
For buyers, the time to buy low is quickly ending, creating a sense of urgency to buy now before prices rise too high or interest rates return to more historically normal levels.
According to CoreLogic and reported by Realtor.org, home prices in 2013 saw the largest percentage increase across the board since 2005, north of 11% as of December.
The spring selling season will be in full swing sooner than you think. Rates are low, there is urgency to buy now, and buyers are already coming out of their winter slumber. If you're planning to sell your Vero Beach real estate in 2014, you need to jump on the bandwagon right now. Don't miss out on the perfect, well qualified buyer because you waited a week or two too long.
For more Vero Beach real estate home selling tips, visit the Vero Beach Home Selling Tips section of our website to your right under Vero Beach Real Estate Categories.