A Vero Beach real estate scam is making the rounds. Scammers are approaching new home owners and trying to trick them into paying $83 for unnecessary property records — including deeds that are available for a few bucks at county government offices or are already supplied at the end of a Vero Beach real estate transaction.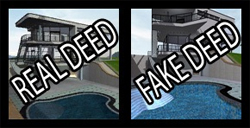 Fake companies reportedly are soliciting customers with a formal-looking letter that resembles a government bill. The companies are using multiple names for their business, such as Record Transfer Services, Property Transfer Services, Conveyance Transfer Services, Record Retrieval Department, and National Deed Service. They often use a similar phone number: 888-874-4669.
In a recent case in Wisconsin, new home owners were asked for an $83 "document fee" for a deed and "real property records" by a certain deadline.
Some people don't even call and ask any questions. They just automatically send the money. They're just excited they get their house and don't know enough to even question the request.
A real estate broker with a firm in Milwaukee first alerted the Milwaukee Sentinel Journal about the scam after two of his clients approached him separately within two months of purchasing a house to ask why they had received another bill. At the bottom of the letter was a disclaimer: "The company Record Transfer Services is not affiliated with the State of WI or the County Recorder. This offer serves as a solicitation for services and [is] not to be interpreted as a bill due."
Recently Purchase Vero Beach Real Estate?
For people who don't understand the Vero Beach real estate process or that a deed exists, they think they have to pay this added fee. Don't be scammed. If you've recently purchased Vero Beach real estate and receive such a notice, don't pay it. Call your county tax office for confirmation that your notice is a scam.
For more information on Vero Beach real estate news and updated information that affects Vero Beach real estate directly, visit our Vero Beach Real Estate News link under our Vero Beach Real Estate Categories to the right.