By now, unless you've been living in a closet for the past few weeks, you already know that mortgage rates have been inching up.
If history is any indication, the recent spike in mortgage rates is going to have little to no impact on home prices, according to a new report from Fannie Mae.
Whether you're planning to buy or sell a Vero Beach home, here's what you need to know about rising mortgage rates.
Mortgage Rates Are Still Pretty Cheap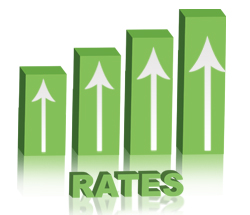 If the economy continues to improve as anticipated, mortgage rates will keep inching up. We're not expecting to see rates climb back above 5 or 6 percent again until at least 2014, but with mortgage rates, a lot of things factor in to set the rates. But even at 5 percent, historically speaking, rates are still pretty cheap. Anyone remember the days of 21 percent mortgages?
Higher Mortgage Rates Won't Cripple Housing
Mortgage rates would have to rise fairly sharply to make a dent in the Vero Beach housing market. With prices rising, sellers can be patient. For buyers, as we said, mortgages are still historically cheap.
Mark Zandi, chief economist for Moody's Analytics, examined more than 20 years of mortgage rates and home price data and found that, on average, for every percentage point increase in mortgage rates, the pace at which home prices grew was lowered by half a percentage point.
Be Ready To Lock In Your Rate
To avoid any short-term spikes, it is recommended that you lock in as soon as you can (typically when you sign a contract to buy a Vero Beach home).
Most lenders won't charge for a 45-or 60-day rate lock. Pay for a 90- or 120-day lock only if you think your deal may take a while to close. The typical cost is a quarter of a point per 30 days. With a float-down option, you'll pay less when rates fall at least a quarter point. Skip that add-on unless it's free.
Fixed Mortgage Rates Usually Beat Adjustables
You may be eyeing adjustables, which are up less than fixed rate loans. An ARM is the better call only if you plan to own your Vero Beach home for a short time.
When you need five or less years, you might save with an adjustable rate. A monthly payment on a $200,000 mortgage is $954.00 (principal and interest only) with a 30-year loan at 4%. On a 5-year ARM at 2.6 percent, you're looking at $800 and some change. But it's crucial to get a loan that matches your time frame.
When we sit down and discuss your Vero Beach home buying options, we'll go over mortgage rates with you and help you decide which type of loan is right for your particular situation. We can also help you find a mortgage expert in the Vero Beach area to discuss your options with as well.