If one were to look at the county road plans from the 1970's, the proposed U.S.1 bypass, which came to be known as Indian River Boulevard, was scheduled to be built along the west bank of the Indian River Lagoon. If you are familiar with the area, you will know that St. Lucie and Brevard Counties built their U.S.1 bypass in that manner, effectively ruining the river experience for residents along the beautiful west-bank.
So Vero Beach is different in that regard, like in so many aspects of life here.
Indian River Boulevard – "Island Life"
Our clients have always been counseled to consider life "on the island". Things were always thought to be nicer in 32963. The convenience of Central Beach and of Old Riomar were unparalleled and irreplaceable. And maybe it was worth living "up by 510", because the beach was close.
But a few things happened:
The real estate got old…and expensive!
The newer, island-side properties were being built at the north end of town, and were a hike to stores, restaurants, movies and health care, and
There was exciting new housing being built along Indian River Boulevard.
If you were to take Beachland Blvd. west 9/10s of a mile across the Barber Bridge, you would land on "The Boulevard". Turn left, and you are a minute from shopping and dining. Turn right, and you are two minutes to the hospital, and three to some of the area's best new real estate as well as to some great golf.
Indian River Boulevard is Alive With Development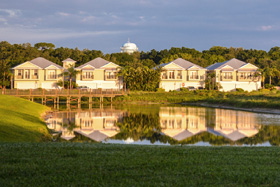 Riverwind has one new house left to build, but always has a great resale or two.
Grand Harbor is hopping, with two new areas under development.
Bridgepointe is offering spectacular carriage homes that offer their buyers the opportunity to modify one of 9 existing designs, or to design their own. Regatta Building and Development, the builder, has on-staff designers to help make those dreams come true. In addition, these homes offer extraordinary standard finishes, including Jenn-Air appliances, standing-seam metal roofs, impact glass, and a host of other features.
And Lily's Cay has also starting building zero-lot line patio-homes.
At it's northern-most point, Indian River Boulevard is not more than 6 minutes from the corner of Beachland Boulevard and Ocean Drive, the very center of the beachside village, and 10 minutes from 14th Avenue, the art-gallery and restaurant-filled "Old Downtown".
It's no wonder, Indian River Boulevard is the new in-place to live. It's beautiful and convenient and has real estate opportunities galore.
Indian River Boulevard Real Estate For Sale
DiMarzo Realty Inc. specializes in the Vero Beach real estate market including patio homes for sale, villas, condos and more. If you have any questions about living in the Vero Beach area, give us a call at (772) 713-9898 or send us an email.