Vero Beach golf is unique in many ways, not the least of which is how the golf and club opportunities differ from those in the rest of the state. So forget your preconceptions and open your minds to some of Florida's most exciting golf and club offerings.
Vero Beach Golf Courses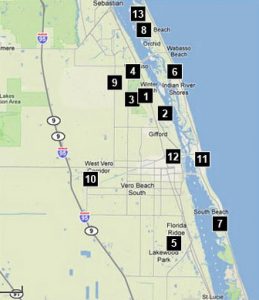 1.
The Hawk's Nest Course – The Moorings at Hawk's Nest
2.
Grand Harbor
3.
Bent Pine
4.
Red Stick
5.
Indian River Club
6.
John's Island
7.
The Moorings
8.
Orchid Island
9.
Quail Valley
10.
Pointe West
11.
Riomar
12.
Vero Beach Country Club
13.
The Windsor Club
Green Vero Beach Golf Courses
While many of Vero Beach's communities offer golf, the best of our courses are "green". They have nothing but nature surrounding them and they are not affiliated with communities.
The opposite is true as well. Much of the best Vero Beach real estate for sale is not located within the gates of golf communities.
The Moorings at Hawk's Nest course, Quail Valley and Redstick are "green" courses and have no real estate. You may live anywhere in town and join. John's Island West is also "green" but is the third golf course for the community, which has two courses on-site.
Like the golf situation, many of the social clubs are unaffiliated with communities. Quail Valley's Town Club has tennis, spa, marina, gym and restaurant facilities, and you may join the Town Club and not join the golf club. In fact, it has been said that Hawk's Nest for golf and the Town Club for your social and tennis needs are the best of all worlds.
Orchid Island, Windsor, John's Island and Grand Harbor are traditional golf communities. You must live there to join. Bent Pine, Pointe West and Indian River Club are hybrids. They are golf communities with memberships available to non-residents.
Public Vero Beach Golf
If your tastes lean towards public golf, or if you'd like to live here a while before you decide on a club, you are in luck! The county-owned and operated 36-hole complex at Sand Ridge is truly a blessing for residents and visitors alike. Sand Ridge features two distinctly different lay-outs. The Dunes takes full advantage of Florida's natural sand ridge, which gives the golfer the rare opportunity to play Florida golf with real elevation changes. The Lakes course is just that, a pretty and fun lay-out that is challenged by water, water everywhere!
We are also blessed with public golf at Sebastian Golf Club just to our north and Fair Winds just to our south. Feel like a 35 minute drive? We're just that far to three great courses at PGA – St. Lucie West. That complex also includes a fabulous learning center complete with club fitting and a state-of-the-art practice and driving range complex.
While this might seem complicated, an understanding of these opportunities is essential to a sound Vero Beach real estate buying decision. Understanding that great golf and great real estate are mutually exclusive in Vero Beach might just be the most important piece of information you can obtain before you buy your Vero Beach home.
Vero Beach Golf Course Homes
We at DiMarzo Realty, Inc. understand the clubs and we understand the Vero Beach real estate. Let us help you understand how the pieces fit. If you have any questions about Vero Beach golf courses or Vero Beach real estate contact Jim DiMarzo at DiMarzo Realty, Inc..