If Vero Beach luxury real estate is what you're looking for, the town of Orchid, the Village of Indian River Shores, and Indian River County, all offer a cornucopia of luxury home options.
Old Riomer is still the area's real estate of choice. Traditional single-family homes on large lots comprise the vast majority of this highly desirable area. Locals often refer to the best Vero Beach luxury real estate in town as being "between the bridges". Old Riomar lies from the river to the ocean, and between the Barber Bridge at SR-60 (Beachland Blvd.) and the Alma Lee Loy Bridge at 17th Street.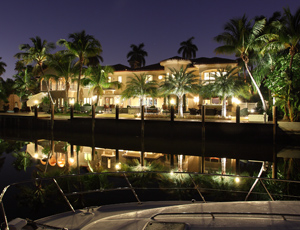 The Riomar Golf and Beach Clubs as well as the Town Club at Quail Valley are located in Old Riomar. The area shares Ocean Drive with the beachside commercial district to its north, and with the small South Beach commercial node to its south. Riomar residents can walk or enjoy short golf cart, or bicycle trips to anywhere along Ocean Drive such as shops, restaurants, The Art Museum, The Riverside Theater as well as the beach.
From Old Riomar, great luxury homes, condos, patio homes, villas and townhomes extend along our beautiful A1A to the St. Lucie County border to the south and to the Sebastian Inlet to the north, as well as from the Atlantic to the Indian River.The A1A corridor includes such beautiful developments as The Shores, Johns Island, Palm Island Plantation, Orchid Island Golf and Beach Club, and Windsor to the north, and The Moorings and a host of others to the south.
Additionally, a bit further south, North Hutchinson Island has all of the elaborate, high-rise oceanfront condos which Vero Beach wouldn't permit.
Maintenance Free Vero Beach Luxury Real Estate
Our profile buyers are successful, discriminating and tired from long and successful careers. Many desire maintenance-free or yard-maintained, and highly amenitized housing opportunities, but many do not want elevators and shared spaces.
We have seen luxurious oceanfront housing opportunities since the mid-80's such as the Ocean Villas at Johns Island. What they all had in common was that they were unique to golf developments.
The mid-90s saw the advent of maintenance-assisted luxury homes outside of golf developments. Many featured the finest in design and finishes, beautiful views, clubhouses with exercise rooms, tennis courts and beach clubs…but no golf.
They have been called villas and carriage homes, courtyard homes and patio homes. What they share is that they offer our luxury home buyers the least stressful lifestyle available. One call fixes a sprinkler head or a light bulb in the gym. All that's left is to enjoy all of the beauty that Vero Beach and Indian River County offer.
Vero Beach's better golf courses are free-standing, "green", and independent of housing components. As a result, our discerning Vero Beach homebuyers can opt for the highest quality Vero Beach luxury homes available in our market and get the very best of our golf and club opportunities, and have them both 'a la carte.'
Additionally, high-end, yard-maintained homes with outstanding amenities are available from Windsor to Bermuda Bay, from Orchid Island Golf and Beach Club to The Estuary, as well as from John's Island to Palm Island Plantation.
Vero Beach Luxury Real Estate For Sale
DiMarzo Realty Inc. specializes in the Vero Beach real estate market including patio homes for sale, villas, condos and more. If you have any questions about the Vero Beach lifestyle give us a call at (772) 713-9898 or send us an email.