From the beachfront at the luxurious Carleton to the ultra-chic riverfront Somerset Bay, high-end Vero Beach condos continue to appeal to our affluent second-home and retirement homebuyers. The maintenance and responsibility-free lifestyle afforded these sophisticated buyers is well-suited to their laid-back lifestyles. Views and opulence abound.
And we have Vero Beach condos in all shapes and sizes, and with every conceivable view.
Despite the fact that the Patio Home has become the product of choice for most second-home buyers in this market area, some continue to gravitate to our condo product. As there has been virtually no new condominium construction in Vero Beach for fifteen years, fresh, exciting Vero Beach condos continue to sell well and continue to be in short-supply.
Choices in Vero Beach Condos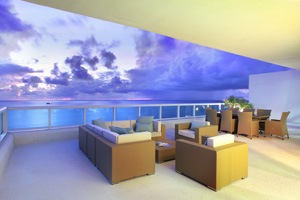 The Carleton continues to be the benchmark for area oceanfront Vero Beach condos. Carleton condo units are two-to-a-floor, six-to-a-building. They feature 180 degree views from expansive balconies, all of which have built-in gas grilles. They offer three bedrooms from 3,500 square-feet and four bedrooms from 4,600. Both styles have porches of at least 1,500 square-feet.
Carleton spared no expense in finish levels. There is Travertine, granite and molding everywhere. Carlton also offers beautiful club and pool amenities, tennis, a workout facility, cabanas, a putting green, and guest apartments for the use of guests of residents. Each unit has a private, 2 or 3-car air-conditioned garage. Top-floor units have private roof decks. Secure, lock-out elevators deliver residents to their own front foyers. The Carleton offers our very best condo product.
Other Vero Beach Condos…
Somerset Bay at Bermuda Club is the river-view equivalent to The Carleton's oceanfront. The condos at Somerset Bay are conceptually similar; 6 units per building and 2 per floor. Secure, lock-out elevators deliver residents to their individual units, and the cars enjoy private 2 or 3-car air-conditioned garages. Like Carleton, these units are elaborately finished with Travertine, granite and crown molding everywhere. And like Carleton, most have gas available on their porches for their owners to enjoy grilling out.
Orchid Island Golf and Beach Club also offers elaborate oceanfront condos, as does Sea Colony. Many of The Moorings ocean and riverfront condos have been refreshed to today's standards.
Grand Harbor has an array of riverfront offerings, from large and beautiful, to compact but fun.
Vero Beach and Indian River County share the distinction of having only one development of two buildings taller than 10 stories, and only a handful in excess of 4 floors. The most recent height restrictions, enacted in the late 80's, further restricted buildings to 3 living floors over parking.
Vero Beach Condos to the South
North Hutchinson Island, our St. Lucie County neighbors to the south, offers an array of spectacular 15-story towers that our successful and discriminating condo buyers desire.
With the very best of our golf courses being "green" and having no housing component, our clients can access world-class amenities without living at the club. In Vero Beach, a strong case can be made for that choice.
From Orchid Island Golf and Beach Club to Altamira, and from John's Island to the Paragon, opportunities to cook-out from your oceanfront terrace abound.
Vero Beach Condos For Sale
DiMarzo Realty Inc. specializes in the Vero Beach real estate market including condos, patio homes for sale, villas and more. If you have any questions about living in the Vero Beach area, give us a call at (772) 713-9898 or send us an email.