When it comes to Vero Beach waterfront real estate, the possibilities are endless.
From the basic 2/2 lakefront condo, to the ocean or riverfront estate (or to the ocean-to-riverfront estate!), we have it all. Like yours with golf? We have that too! Like your golf and your real estate separately, so do we! And some of our real estate and golf opportunities are a la carte.
Vero Beach Waterfront Real Estate Market
John's Island is no doubt one of the finest golf developments in the world. And they offer miles of beach and miles of river frontage.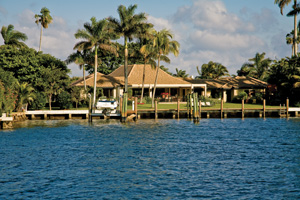 The Moorings was built during an era when deep water lots could be "created". Vero Beach waterfront real estate at the Moorings features hundreds of homes with six feet of water at their docks. Additionally, there is a truly spectacular clubhouse, fitness center, beach pavilion and tennis. Life at the Moorings is a dream for anyone who loves the water, most especially for the boaters among us. And golf? The Moorings enjoys a Pete Dye-designed executive course on-site, and the truly magnificent Hawk's Nest course along Florida's sand ridge. The Moorings club is available to outside members.
Old Riomer is no doubt one of the finest areas to live in the world. The area offers beach and boating, and golf is a minute away. If you prefer your golf a bit more challenging than is available at the Riomar Golf Club, The Hawk's Nest course (The Moorings at Hawk's Nest) is as good as it gets anywhere and it's 10 minutes away. Prefer a "town club" and a golf club complex? Quail Valley's three campuses are fabulous, with it's third and most recent occupying one of Vero Beach's great pieces of land at the east end of Royal Palm Point.
Vero Beach Waterfront Condos For Sale
Back to those more modest condos, you can get them with full amenities (The Moorings, Grand Harbor), full amenities without golf (Sea Oaks) or with amenities-lite (a pool and a dock) in many locations.
And then there are the drop-dead gorgeous a la carte waterfront condos (Carleton, Somerset Bay).
Vero Beach Waterfront Homes with Docks
Oh, and one more thing…we have hundreds of waterfront homes with docks at all price points on both banks of the Indian River.
If you wold like your real estate and your boating a la carte, the Grand Harbor Marina is a beautiful deep-water haven for area boaters, as are those at Quail Valley and at The Moorings' Marina complexes. Add the Vero Beach Marina and the Vero Beach Yacht Club to that mix and area boaters have the opportunity to live where they like and to keep their boats conveniently close-by.
The most sought-after waterfront properties in town are on lakes and ponds.
Vero Beach Waterfront Real Estate For Sale
DiMarzo Realty Inc. specializes in the Vero Beach real estate market including patio homes for sale, villas, condos and more. If you have any questions about living in the Vero Beach area, give us a call at (772) 713-9898 or send us an email.