The real estate market for Vero Beach patio homes didn't really start until 1993. We had long seen patio home sections of large developments. Paget Court and Ocean Villas in Johns Island, The Mews in The Moorings, The River Homes in Sea Oaks and Wood Duck, as well as St. David's Islands in Grand Harbor, were familiar to us all. What they had in common was, there were neighborhoods in large communities representing only one type of product.
Vero Beach Patio Homes Communities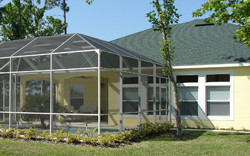 Beazer Homes arrived in '93 with a community comprised entirely of patio homes called Island Club. It opened to great fanfare, and then stagnated. Dennis Witherow, Beazer's regional president, was asked to take a look and make recommendations. Within a few weeks, Dennis had taken over, raised pricing, encouraged customization, and Island Club was off and running.
Dennis and Beazer followed that success with a new phase which they named Riverside. Riverside raised their game. The smallest home in Riverside was larger than the largest in Island Club. Lot sizes increased, amenities were enhanced, riverfront lots were offered, finish levels improved dramatically, and, of course, prices jumped. Both developments were a runaway success, and Vero Beach patio homes became one of the most desirable properties in the area.
Island Club and Riverside were closely followed by Sea Mist Court in The Moorings, Palm Island Plantation, The River Club, Ocean Pearl, Bermuda Club, Old Orchid and The Seasons. All but Sea Mist were in predominantly patio home communities, and all but Sea Mist were at the north end of the island.
With the launch of Island Club, patio homes became the product of choice for Vero Beach homeowners, particularly those who had second homes. And within a few years of the launch of Island Club, we suddenly had a patio home market of several hundred homes. With Grand Harbor, Antilles and other more recent additions, we now have more than 1,000 Patio Homes from which to choose. And there never seems to be enough…
Then the unthinkable happened. The hot product and the hot location shifted from North Beach to Indian River Boulevard…off "The Island".
Real estate brokers, natives and old-schoolers nay-sayed until they got hoarse. High end development had to be on the island to be high-end.
What had happened?
Hurricane-Impact Glass Patio Homes
Dennis Witherow (remember that name?) had started Regatta Construction and bought a property along "The Boulevard". He well-remembered his Island Club/Riverside lessons. He knew that "more was more". Riverwind became the first community at the price to build exclusively with a great, new product called "hurricane-impact glass". He added 11'4″ ceilings, crown molding, granite countertops, great finishes, a beautiful clubhouse, pool and fitness center, a couple of nice lakes, a comprehensive yard-maintenance program, and created another runaway success, his third in a row.
Riverwind has become the standard for high-end, mid-priced Vero Beach patio homes . Riverwind had the right formula, and a key ingredient in that formula was impact glass. The writer of this article has lived in Florida for 30+ years, 11 of them with impact glass. He will never live here again without it!
Vero Beach Patio Homes For Sale
DiMarzo Realty Inc. specializes in the Vero Beach real estate market including patio homes for sale, villas, condos and more. If you have any questions about living in the Vero Beach area, give us a call at (772) 713-9898 or send us an email.