If you're looking for Vero Beach houses, consider "The gateway to the Tropics", "The City of Trees", "Historic Dodgertown", "Vero Beach – 32963."
Vero Beach has been known by many names throughout its storied history. The Dodgers are gone, but Vero Beach remains as a premier second-home and retirement home destination. Vero Beach has been a destination for the discerning and the discriminating since the Old Riomar area was developed in the late 1920s. Here you will find beautiful old Vero Beach houses, situated on large land parcels and shaded by magnificent old oaks. All of this sets the tone for the rest of the barrier island that is still the standard today.
Vero Beach Houses and Living
When E. Llwyd Ecclestone Senior bought the Tuerk Estate and started to build John's Island to the north of town, and the area's boaters' paradise, The Moorings, was started to the south of town, the future was secure. Anchored by those two magnificent communities, Vero Beach would forever be the understated jewel of retirement living. Since those early days, The Riverside Theater, The Theater Guild, The Center for the Arts, The Environmental Learning Center, Pelican Island Sanctuary, Indian River State College, Indian River Memorial Hospital, The Ocean Grill and a host of other great restaurants have provided us with a way of life unparalleled in the Sunshine State.
The magnificent Indian River, with its unspoiled and seldom visited lagoons, is a fishing, boating and water sports haven. And the beautiful Atlantic, with its comfortable Gulf Stream breezes, frames this paradise to the east.
An array of elegant, high-end Vero Beach houses awaits our sophisticated homebuyers. In addition, some of the country's best golf and country club facilities are found here.
Vero Beach Houses on the Golf Course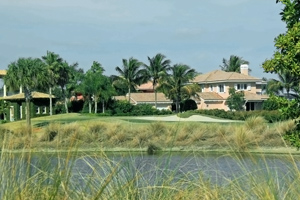 If your years of Golf Magazine, Golf Digest and Links have convinced you that a fabulous home on a world-class golf course is in your future, that awaits you. Before you sign that contract, you should know that our best golf and our best real estate are mutually exclusive. So, let us help you find the course of your dreams, or that perfect view from your dock. Your real estate and golf club will likely be a short, uncrowded, and beautiful drive from one another.
If your Vero Beach home choice is large, majestic and oceanfront, it's here for you. If you prefer a dock and the tranquility of a magnificent nightly light show called sunset, we have that too. And don't forget the elegant Vero Beach lakefront, low-maintenance courtyard home option.
And if your choices go to new, upscale and convenient, the hot new area is the Indian River Boulevard corridor. Riverwind and Grand Harbor set the development bar very high. Continuing to make this area one of Vero Beach's most desirable, Grand Harbor's two new development areas, Lily's Cay and the fabulous new Bridgepointe Villas await you.
All this and more await each and every seeker of the perfect Vero Beach houses in this Florida paradise.
Vero Beach Houses For Sale
If you have any questions about Vero Beach real estate, contact Jim DiMarzo at DiMarzo Realty, Inc..