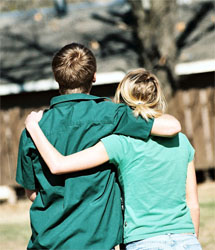 When couples these days head out to buy a Vero Beach home, often times, down payment is the biggest hurdle. Most young people starting out today have not worked long enough to save to buy a house, even if they can swing the monthly payments.
Loans from family members can cause problems however, and financial experts warn against it.
Lenders typically view a family loan as another burden that could affect a borrower's ability to make monthly payments. In fact, a loan from a parent could raise a borrower's debt-to-income ratio sufficiently to result in disqualification for a mortgage to buy a Vero Beach home.
Parental loans also fall under the category of unsecured debt, meaning that no asset is acting as collateral, which can pose a lending risk.
Gifts to Help Buy A Vero Beach Home
Gifts—with no strings attached—are a different matter. Even then, most lenders typically like to see home buyers contribute at least 10% of the loan amount to the down payment because that's an indication of their ability to manage their own finances. If someone is coming to the closing with a down payment that is all gift money, some lenders will consider it, but only on a case-by-case basis.
About one-fourth of all first-time home buyers receive some down-payment assistance from relatives, most commonly, parents, according to a National Association of Realtors survey of people who purchased homes from July 2011 to June 2012.
Rising property values are also driving more parents to pitch in on down payments, especially in high-price home markets.
A few more considerations when seeking help making a down payment to buy a Vero Beach home:
Don't forget tax rules. An individual gift of $14,000 or less is tax-exempt, but gifts that exceed the $14,000 annual limit must be reported to the IRS. This used to be $13,000, but was raised last year. Each parent can give $14,000 to a child and his or her spouse, for a non-taxable sum of $56,000.
Stick to close family members. Lenders generally won't allow down payment gifts from distant relatives or unrelated parties, such as a builder.
Gift rules are looser with an FHA loan. Federal Housing Administration mortgage limits go above regular jumbo limits in some high-price areas and allow borrowers to use a gift for the full down payment.
In making a family gift to buy a Vero Beach home, the key is for the borrower to have the right documentation, including a letter that clearly states the gift amount and that the gift-giver doesn't expect repayment. In addition, lenders require written proof that the money has been transferred from the relative's bank account to the borrower's bank account or, alternatively, are given a copy of a certified or cashier's check.