Vero Beach home prices, along with home prices across much of the country, are back to their mid-2004 levels. This news comes from the S&P/Case Shiller index as of September 2013.
Vero Beach home prices jumped again in September, marking their biggest annual gain in at least 7-1/2 years. Nationwide, the price index is up 13.3 percent year-over-year, the strongest increase since the boom peaked in 2006.
The S&P/Case Shiller composite index rose 0.7 percent month-over-month in September on a non-seasonally adjusted basis.
As of the third quarter of 2013, average Vero Beach home prices, as well as home prices across the United States, were back to their levels posted in the second quarter of 2004.
At the end of the third quarter of 2013, the national index was up 3.2 percent over the second quarter of 2013, and 11.2 above the third quarter of 2012.
"Housing continues to emerge from the financial crisis: the proportion of homes in foreclosure is declining and consumers' balance sheets are strengthening," according to David M. Blitzer, Chairman of the Index Committee at S&P Dow Jones Indices. "The longer run question is whether household formation continues to recover and if home ownership will return to the peak levels seen in 2004."
Vero Beach Home Prices Up – Pending Home Sales Slip
While Vero Beach home prices continue to rise, the closely-watched index that measures pending home sales, or signed contracts but not closings, slipped again in October, falling to its lowest level in one year.
The reasons for the slump are mainly falling inventory and diminishing affordability, fueled by higher Vero Beach home prices and higher interest rates.
Pending home sales nationwide, not just in the Vero Beach market, marked the fifth consecutive monthly decline, according to the National Association of Realtors.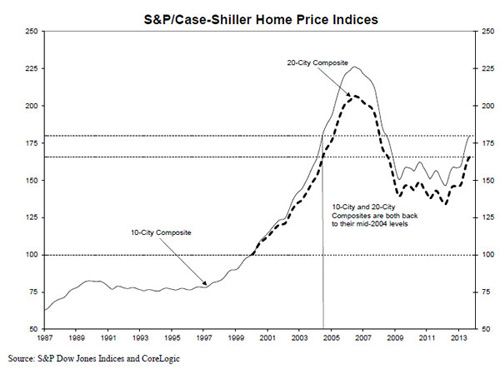 Get more news on Vero Beach home prices, along with other Vero Beach real estate news and information by clicking the Vero Beach Estate News link to your right under Vero Beach Real Estate Categories.