Vero Beach home values have been on the rise for the past couple of years following one of the worst economic crashes in modern day history. But what does this mean for you as a Vero Beach homeowner?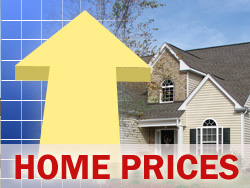 The most obvious advantage of rising Vero Beach home values is, you may be in a better position to sell, if that's what you've been waiting for. If you're on the fence or have been waiting to put your home on the market, its value can be a strong influential factor in your decision. But what if you want to stay put?
Rising Vero Beach Home Values May Mean More Cash Now
Maybe a cash out refinance is a good option for you since we've seen such rising Vero Beach home values over the past couple of years.
If your Vero Beach home value has gone up, you may be able to turn some of that equity into cash. A cash-out refinance allows you to refinance into a new mortgage for more than what you currently owe. The benefit? You can use the difference for pretty much anything.
This may be a good option if you're in immediate need of some extra money, if you want to pay off high-interest credit card debt or if you're just looking to make some home improvements to increase the value of your home. The possibilities are endless!
Rising Vero Beach Home Values Could Eliminate PMI
If you pay private mortgage insurance (PMI) for your conventional loan, or a mortgage insurance premium (MIP) for your FHA loan, an increase in your home's value might mean extra savings. If your home's value has gone up, your loan-to-value (LTV) ratio may have changed, so you might be able to cancel your PMI.
You may be able to request cancellation of your PMI once the unpaid balance of your loan has reached 80%, as long as you meet the following criteria:
You must have a good payment history;
The value of your home must not have declined below its original value; and
There are no other liens on the property, such as a second mortgage.
If your PMI is not canceled at 80%, your servicer must automatically terminate it when your LTV ratio reaches 78% based on your initial amortization. This does not apply to investment properties or lender-paid mortgage insurance (LPMI), however.
Rising Vero Beach Home Values Could Mean Higher Taxes
As Vero Beach home values rise and fall, property taxes usually follow suit. If your mortgage lender manages your taxes and insurance for you through an escrow account, your monthly mortgage payment could increase if you need more money in your account to cover your increased property taxes.
If you know there's a good chance your property taxes will increase, you can make additional payments toward your escrow account at any time during the year to alleviate the potential escrow shortage.
Those are just a few of the pro's and con's of rising Vero Beach home values. Obviously, if you're a potential home buyer, there are even more con's to rising Vero Beach home values.
Questions or concerns about rising Vero Beach home values? Let us know in the comments box below. We'd love to hear from you.